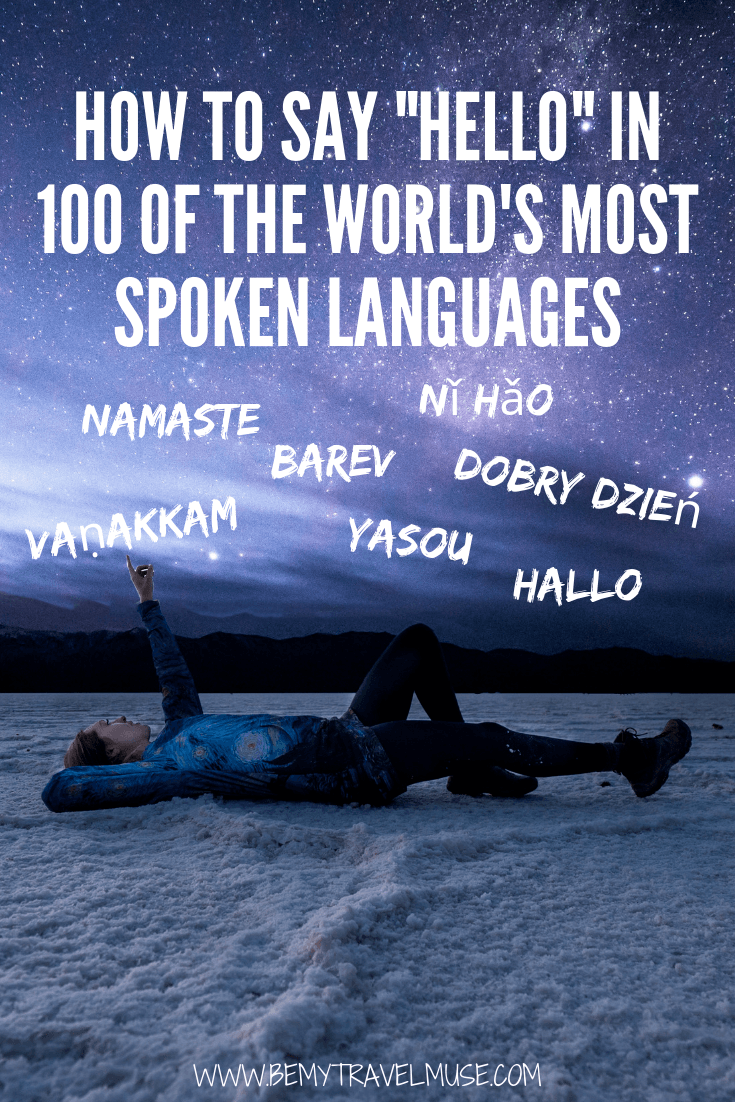 In the famous book, How to Win Friends and Influence People, Dale Carnegie states that "the sweetest and most important sound in any language" is a person's own name. While that might be true, I'd venture to state that the most important sound is 'hello' in the person's own language.
Without 'hello,' you don't have a chance to get to the other words. As anyone who travels and has learned how to say 'hello' in different languages knows, nothing can make a person brighten and open up as much as the effort to speak at least 'hello' and 'thank you' in the local language. It shows that we're trying, that we care, and that we are conscientious travelers.
That's why we put together a list to help you learn how to say 'hello' in 100 of the world's most spoken languages:
1. Mandarin nǐ hǎo China, Taiwan, Singapore
---
2. Spanish hola Hispanic America, Spain, United States, Equatorial
Guinea, Western Sahara, Pacific Islands
---
3. English hello Australia, Canada, India, Ireland, New Zealand,
United Kingdom, United States, South Africa,
Singapore, Philippines
---
4. Hindi namaste India, Fiji, Nepal
---
5. Arabic marhabaan North Africa, Western Asia (Middle East), East
Africa
---
6. Portuguese olá, oi, alô Angola, Brazil, Cape Verde, Mozambique, Portugal,
São Tomé and Príncipe, Timor-Leste
---
7. Bengali hyālō Bangladesh, West Bengal (India), Tripura (India),
Assam (India)
---
8. Russian privet Russia, former Republics of the Soviet Union, Mongolia
---
9. Japanese kon'nichiwa Japan
---
10. Punjabi sata srī akāla Punjab region (India, Pakistan)
---
11. German hallo, guten tag Austria, Belgium (Eupen-Malmedy), Germany,
Luxembourg, Liechtenstein, Switzerland, South Tirol
(in Italy)
---
12. Javanese nggoleki Java (Indonesia)
---
13. Wu nóng hō Zhejiang, Shanghai, southern Jiangsu (eastern China)
(Shanghainese)
---
14. Malay selamat siang Indonesia, Malaysia, Brunei, Singapore
(Indonesian)
---
15. Korean annyeong haseyo North Korea, South Korea
---
16. Telugu halō, vandanalu Andhra Pradesh, Tamil Nadu, Karnataka, Puducherry
(India)
---
17. Vietnamese xin chào Vietnam
---
18. French bonjour Belgium (Wallonia, Brussels), Canada (particularly
Quebec, New Brunswick and Eastern parts of
Ontario), France, Switzerland, Francophone Africa,
French Caribbean, French Polynesia, various islands
in the Indian and Pacific Oceans.
---
19. Marathi hĕlō, namaskār Maharashtra, Goa, Andhra Pradesh, Karnataka, Madhya
Pradesh, Gujarat (India)
---
20. Tamil vaṇakkam Tamil Nadu, Karnataka (India), Puducherry (India),
Sri Lanka, Singapore, Malaysia, Mauritius
---
21. Urdu assalam u India, Pakistan
alaikum
---
22. Persian salām Iran, Afghanistan, Tajikistan
(Farsi)
---
23. Turkish merhaba Turkey, Cyprus, Bulgaria
---
24. Cantonese nǐ hǎo Guangdong (Canton), southern Guangxi (southern
China), Hong Kong, Macau
25. Italian ciao Italy, Switzerland, San Marino
---
26. Thai sà-wàt-dii Thailand
---
27. Gujarati namaste India, Bangladesh, Fiji
---
28. Basque kaixo Northern Spain
---
29. Minnan lı́ hó Fujian, eastern part of Guandong (southeastern
China), Hainan (southern China), Taiwan, Malaysia
---
30. Polish cześć' Poland, USA, Germany, United Kingdom, Belarus,
western Ukraine, Lithuania
---
31. Pashto salam Afghanistan, Pakistan
---
32. Kannada namaskāra Karnataka, Tamil Nadu, Andhra Pradesh, Maharashtra
(India)
---
33. Malayalam halēā Kerala, Lakshadweep, Mahé (India)
---
34. Sundanese sampurasun Java (Indonesia)
---
35. Chamorro hafa adai Austronesian language spoken mainly on the island of
Guam, and also in the Marianas Islands
---
36. Hausa sannu Nigeria
---
37. Burmese min-ga-la-ba Burma
---
38. Oriya namaskar Odisha (India)
---
39. Armenian barev Armenia Georgi and Russia
---
40. Ukrainian dobryj den Ukraine
---
41. Bhojpuri prannam Bihar (India)
---
42. Tagalog kamusta Manila and Northern Philippines
43. Yoruba e nle o Nigeria, Benin and Togo
---
44. Maithili prannam Bihar (India)
---
45. Sindhi assalam o Sindh (Pakistan and neighboring areas in India)
alaikum
---
46. Swahili habari Kenya, Tanzania, Uganda
---
47. Uzbek salom Uzbekistan
---
48. Amharic selam Ethiopia
---
49. Fula mihofnima West and Central Africa, from Senegal to Sudan
---
50. Igbo kedu Nigeria
---
51. Oromo akkam Ethiopia and Kenya
---
52. Romanian bună Romania, Moldova
---
53. Azerbaijani salam Azerbaijan and Northern Iran
---
54. Manipuri khurumjari North East India, Bangladesh, Burma
/Meitei
---
55. Chichewa moni Bantu language spoken in parts of Malawi, Zambia,
and Mozambique
---
56. Cebuano kumusta Central and Southern Philippines
---
57. Dutch hallo Belgium (Flanders, Brussels), Netherlands and
Suriname
---
58. Kurdish slaw "Kurdistan", northern Iraq, Iran, Turkey and Syria
---
59. Serbo- zdravo Serbia, Croatia, Bosnia and Montenegro
Croatian
---
60. Malagasy salama Madagascar
---
61. Nepali namaste Nepal and neighbouring areas, Sikkim, (India)
---
62. Saraiki tuhada kiya haal Sindh (Pakistan)
hai saien?
(literally, "How
are you?")
---
63. Santali henda ho India, Bangladesh, Nepal, Bhutan
---
64. Khmer choum reap sor Cambodia
---
65. Sinhalese ayubowan Sri Lanka
---
66. Bambara i ni ce Mali Mande language with about 3 million speakers
in Mali, Burkina Faso and Côte d'Ivoire, Senegal,
Gambia, Guinea, Sierra Leone and Ghana
---
67. Assamese namaskhar Assam (India)
---
68. Madurese selamat + pagi/ Madura and Java (Indonesia)
siang/sore/
malam (for good
morning/day/
afternoon/evening)
---
69. Somali salaam alaykum Somalia, Ethiopia, Kenya, Djibouti, and Yemen
---
70. Magahi pərna:m (to Bihar (India)
elder speaker)/
subʱ pja:r (to
younger speaker)
---
71. Dogri ke aal aee Kashmir Jamu (india)
---
72. Marwari khammaghani Rajastan (India and Pakistan)
---
73. Hungarian szia Hungary and areas in neighbouring countries
---
74. Chewa moni Malawi, Mozambique, Zambia and Zimbabwe
---
75. Greek yasou Greece, Cyprus
---
76. Akan/Twi wo ho te sεn? Ghana, Ivory Coast
(literally, "How
are you?)
---
77. Khasi kumno Meghalaya state in India by the Khasi people
---
78. Kazakh sälem Kazakhstan
---
79. Tswana dumela rra (when Botswana
addressing men)/
dumela mma (when
addressing women)
---
80. Hebrew shalom Israel
---
81. Zulu sawubona South Africa
---
82. Czech ahoj Czech Republic
---
83. Kinyarwanda muraho Rwanda
---
84. Kokani deu boro dis dium Goa (India)
---
85. Sylheti bhala ni? Northern Bangladesh and neighbouring parts
(literally, "How of India
are you?")
---
86. Haitian bonjou (before Haiti
Creole noon)/bonswa
(after noon)
---
87. Afrikaans goeie + dag/môre/ South Africa
middag/naand
(means "good day/
morning/afternoon/
evening)
---
88. Min Dong nü hou Fujian (Southeastern China)
---
89. Ilokano naimbag nga Northern Luzon in the Philippines
aldaw (literally,
"good day")
---
90. Quechua allianchu Peru and Bolivia
---
91. Kirundi bite Burundi and Uganda
---
92. Swedish hej Sweden and Finland
---
93. Hmong nyob zoo Laos and neighboring areas
---
94. Shona mhoro Zimbabwe
---
95. Hiligaynon hello Western Visayas in the Philippines
---
96. Uyghur yaxshimusiz Xinjiang (Western China)
---
97. Balochi chone tao? Balochistan (province in Pakistan and Iran)
(literally, "How
are you?")
---
98. Belarusian dobry dzień Belarus
---
99. Mossi ne y windiga Burkina Faso
---
100. Xhosa mholweni South Africa
Regardless of where you're traveling to, knowing at least hello can open so many doors. Hopefully this list got you closer to learning some new languages today.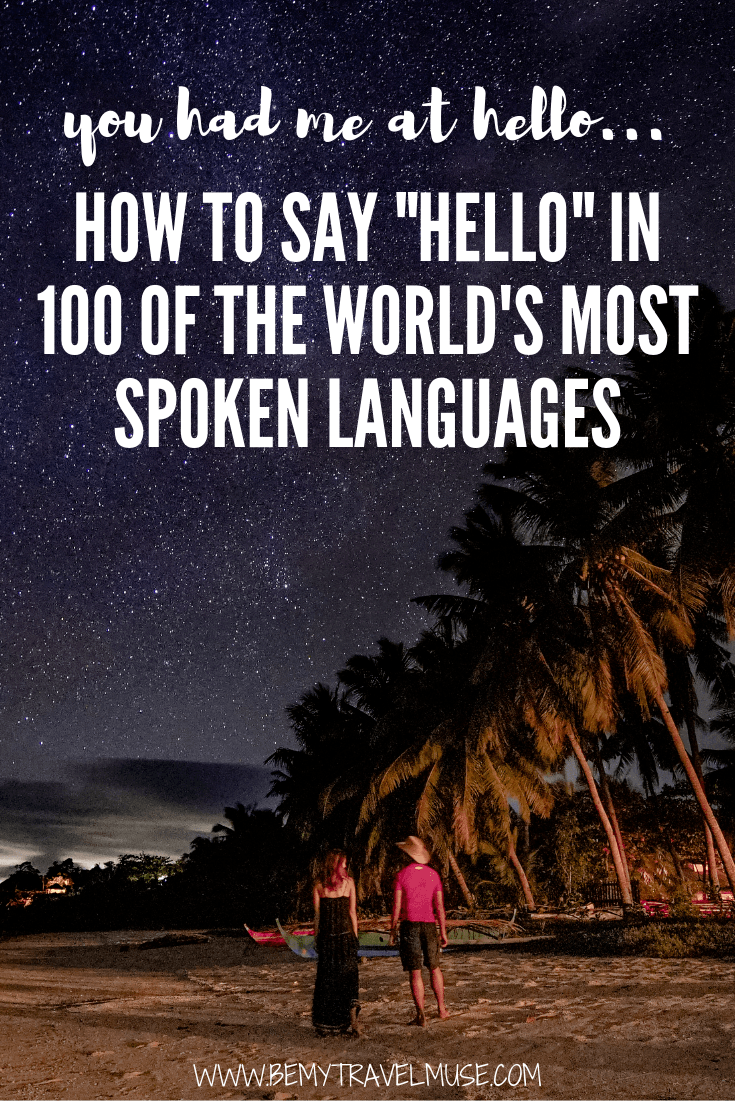 Read Next